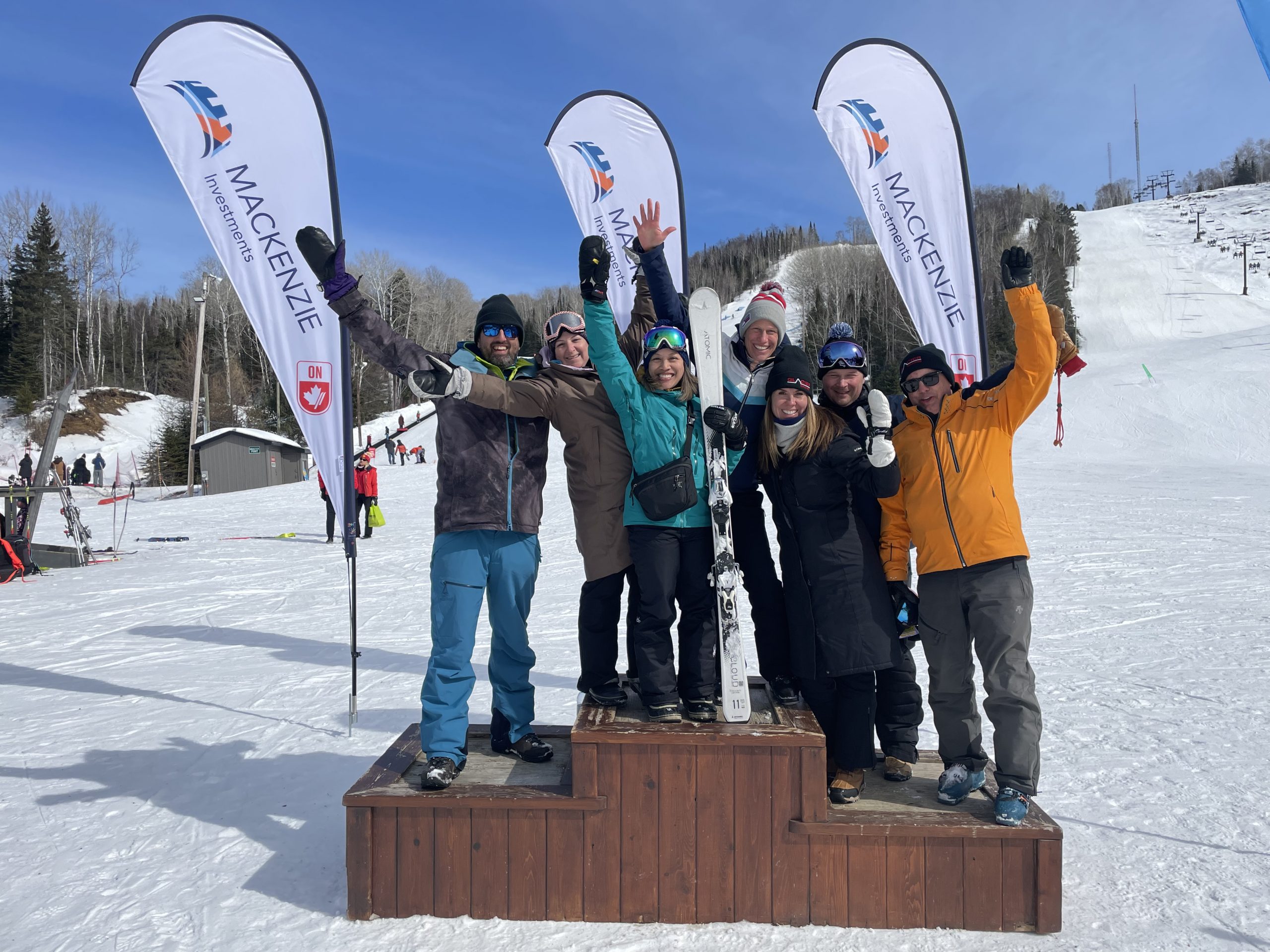 For immediate release
Mar 27, 2023
Collingwood, ON – With race season wrapping up, Alpine Ontario Alpin (AOA) is thrilled to announce a renewed 4-year partnership with Mackenzie Investments, a long-time supporter of AOA and, more generally, ski in Canada.
This season marks Mackenzie Investments' 9th consecutive year in partnership as Alpine Ontario Alpin's Official Financial Services Partner. Mackenzie continues their national long-standing commitment to winter sports through investment in ski communities across Canada and in athletes of all levels- from grass roots to members of provincial and national ski teams.
"We're incredibly proud to renew our partnership with Alpine Ontario Alpin, strengthening our investment in one of Canada's most cherished sports," said Luke Gould, President and CEO, Mackenzie Investments. "We look forward to collaborating with AOA to help support the development of home-grown champions, grow ski communities across the province and serve Canadians who are invested on and off the hill."
Patrick Biggs, Executive Director, Alpine Ontario Alpin celebrated Mackenzie Investment's ongoing commitment to skiing. "Alpine Ontario could not be prouder to renew our partnership with Mackenzie  through 2026. Their continued investment in the Ontario ski community is a tremendous benefit to all our athletes, coaches, and officials from grassroots programs through to the Ontario Ski Team. As we wrap up this season and look ahead to next year, we're thrilled to be collaborating on meaningful community initiatives such as Women in Skiing, youth access programs, Mackenzie Cup Team Racing, and the Mackenzie Top Peak contest!"
Returning for a third season, Mackenzie Top Peak is a national competition that seeks to identify one special ski community in Canada that exemplifies the Top Peak mantra: "Be Invested. On and Off the Hill." Through a series of fun and engaging social media challenges, Canadian ski communities are encouraged to rally around their ski hills and show their spirit for the sport for a chance to be crowned Canada's most invested ski community.  This year, for the first time, Canadians will have a chance to vote directly for the top three teams. Ontario's Mount Jamieson resort was overwhelmed to be chosen as one of the Top 3 peaks. The winning team will be awarded $100,000 for a local community investment project and earn the coveted Top Peak "Crown".
In 2022, Adanac Ski Club from Sudbury, Ontario won $50,000 to renovate and restore their race headquarters. They recently had a grand opening and couldn't be happier with their new space. They're grateful for the support of Mackenzie Investments and the incredible investment made towards the Sudbury ski community.
For more information about Mackenzie Top Peak, visit www.mackenzietoppeak.ca
About Alpine Ontario Alpin
Alpine Ontario Alpin (AOA) is the Provincial Sport Organization recognized by Alpine Canada Alpin (ACA), Canadian Snowsports Association, Ontario Winter Games, Canada Winter Games, and the Ontario Government. Made up of a dynamic and passionate team of professionals, AOA is responsible for bringing the joy of ski racing to athletes, families, coaches, and clubs – from start gates and podium finishes to careers and community. And we're on a mission to empower a safe, inclusive, and integrated alpine sport ecosystem, for everyone. Racer, ready.

About Mackenzie Investments
Mackenzie Investments ("Mackenzie") is a leading investment management firm with $192.2 billion in assets under management as of February 28, 2023. Mackenzie provides investment solutions and related services to more than one million retail and institutional clients through multiple distribution channels. Founded in 1967, Mackenzie is a global asset manager with offices across Canada as well as in Boston, Dublin, London, Hong Kong and Beijing. Mackenzie is a member of IGM Financial Inc. (TSX: IGM), one of Canada's premier financial services companies with approximately $258 billion in total assets under management and advisement as of February 28, 2023. For more information, visit mackenzieinvestments.com.
For Media Inquiries:
Heather Vita
Communications and Member Services Manager
Alpine Ontario Alpin
communications@alpineontario.ca
(807) 631-3793