The 2023-24 fees for Alpine Canada (NSO), Alpine Ontario (PTSO) and the four divisions (SOD, NCD, NOD, LSDA) are outlined here 
Alpine Canada sets its fees in the spring for the FIS Athletes (typically mid-June) and once the Division fees are also set Alpine Ontario will set its fees.
AOA collects two or three fees:
1.  AOA racing fees
2. On behalf of Alpine Canada Alpin (ACA)
3. On behalf of the Southern Ontario Division (SOD) or Lake Superior Division Alpine (LSDA). AOA does not collect fees for the NCD or NOD Divisions.

Why do I pay Alpine Canada?
Alpine Canada provides these services:
CGL Insurance + any applicable insurance premium taxes

Govern the sport in Canada

Secure Federal Government/COC/CPC funding and deliver on accountabilities

Deliver & support national programs and services that promote the growth and sustainability the sport

Deliver & support volunteer recruitment & development for national programs and initiatives

Develop athlete development pathways and programs (ie LTAD pathway, Podium Pathway, Gold Medal Profile)

Develop and manage athletes and teams to represent and compete for Canada internationally

Develop, communicate, evaluate and maintain Technical Official and Coach development pathways, curriculum, programs and certification programs

Identify and support developing high performance Coaches and Technical Officials to strengthen the talent pool

Design and deliver a marketing and communications programs and tools focused on the promotion of the sport in Canada and Canada's ski teams

Host National and International competitions and other events in compliance with ACA & FIS rules and market those in conjunction with local ROCs

Sanction competitions to ensure they meet minimum safety standards, fairness guidelines, and are conducted in accordance with the rules

Implement national commercial initiatives and partnerships to generate revenue that can be invested in national programs and sport development

Influence public and government policy to advocate, position and represent the sport of alpine ski racing

Represents the sport with federal agencies and sport organizations (i.e Sport Canada, CAC, COC, CPC, OTP, CADS)

Represents the sport with international sport organizations (ie FIS, IOC, and IPC)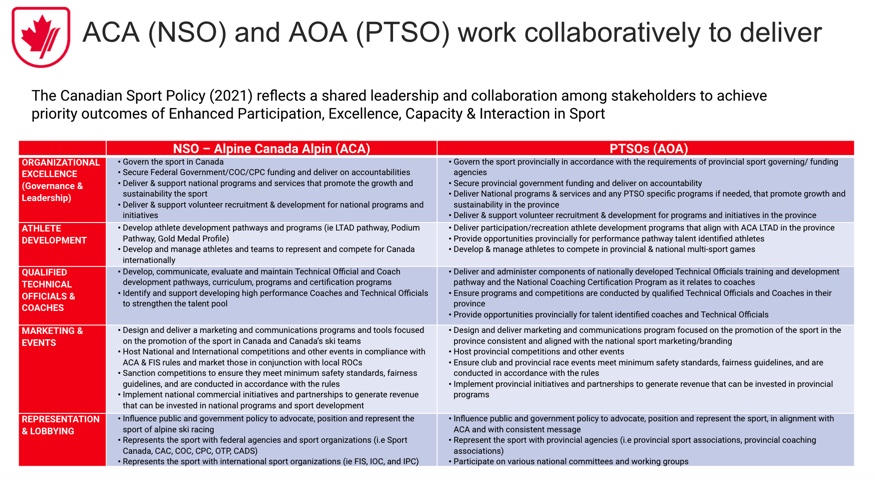 Why do I pay Alpine Ontario?
Alpine Ontario provides these services:
AOA is the link to the NSO for its clubs and members in Ontario.
Manages the governance structure for Ontario Ski Racing.
Organizes and sanctions the entire Ontario race series and provincial championships (more than 300 races per year) from the U8 level up to U19/FIS.
Provide, administrate and pay for General Liability Insurance for all our members and affiliated clubs through the Canadian Snowsports Association.
Provides, administrate and pay for Directors & Officers insurance to all our regional members and affiliated clubs. This is a free service to our members and clubs.
Manage resolution of conflicts and other official complaints in accordance to our policies.
Apply for grants of all types on behalf of ski racing.
Create a safe environment through education, policies and as reflected on our website.
Provide communications with the Ontario ski racing community including producing promotional videos for our sport, managing databases, a newsletter and several websites.
Coordinate fundraising events for our high performance programs so that we can bring athletes to the National Ski Team.
Implement provincial fundraisers that bring over 100K$ into the Alpine Ontario Ski Racing structure.
Manage the Ontario Ski Team (OST) and under the AOA/SOD Partnership the SOD Ski Team (SODST).
Implement high performance development programs to bring athletes all the way up to the national Ski Team including U16 HPP, ODST and the OST.
Organise high-performance skills camps for all age groups (developmental and performance).
Provide high-performance staff that work closely with our regional programs.
Coordinate access to grants, bursaries and scholarships.
Coordinate out-of-province ONT delegations.
Event infrastructure and capacity development.
Manage, coordinate and deliver all levels of education for coaches and officials in ONT.
Work with Volunteers and the Officials Chair to provide training.
Manage Partner contracts and obligations to fulfil member benefits and discounts.
Organise annual educational events for coaches and officials in the spring & fall.
Represent ONT at various national meetings.
Provide tools and safety equipment for our race event organisers.
Provide financial and technical support to our race organisers.
Why do I pay SOUTHERN Ontario DIVISION?
2023-24 SCUP – Race League Entry Fee ($120)
The SOD SCUP Race League fee is a $30 per race fee for the four race SCUP series.  The fees include lift tickets for all athletes and is one of the lowest priced ski race entry fees in the country!  
The fees are used to support the host clubs who put on the races for SOD/AOA as well as support the administration of a race series with over 1,800 athletes.  The fee is aimed at improving race experience, with a focus on Safe Sport, athlete well-being, and sport development.  
We thank the entire race community from head coaches, coaches, officials, technical delegates, athletes and parents for helping create a positive race environment for the 2023/24 SCUP season.

SOD provides these services:
Scheduling of regional races (grassroots to development level);
Scheduling of camps (developmental);
Communications with the regional ski racing community. AOA will make available a dedicated and exclusive Division webpage for SOD as requested, to facilitate AOA communications effectively reaching Division participants and Division communication being available to all of the Province;
Support Event infrastructure and capacity development;
Coaching Education (in alignment with the ACA assumption revision and delivery of formerly CSCF programming) and mentorship programs; and
Officials training.
SOD will continue to provide opportunities to AOA athletes in its area to qualify for all Provincial and National events including U14/16 Can Ams, Whistler Cup, and; OST.
SOD shall adhere to, and shall demonstrate to AOA in such form and at such intervals as AOA may require that it is adhering to all of the requirements of the Ontario Sport Recognition Policy. Furthermore, SOD will comply with the reasonable reporting and governance requirements requested by AOA consistent at a minimum with good governance and responsible reporting and with MTCS standards.
SOD shall adopt, and demonstrate to AOA that is has adopted and adhered to appropriate corporate governance policies and practices including as to conflicts of interest, and financial controls, reporting and accountability, aligned with AOA and MTCS standards and as AOA may require;
SOD shall align with AOA on programming, partnering and reporting.
Management of the SOD FIS Team.