Alpine Ontario Alpin is steep in ski racing history and has much to be proud of! The following athletes are just some of the many AOA alumni who have created a strong ski racing legacy in Ontario.
Erin Mielzynski – Georgian Peaks – CAST Member

Roni Remme – Alpine Ski Club – CAST Member

 

Candace Crawford – Georgian Peaks – CAST Member

Ali Nullmeyer – Georgian Peaks – CAST Member

James Crawford – Georgian Peaks/WMSC – CAST Member

Declan McCormack – Osler Bluff Ski Club – CAST Devo Team

Hannah Schmidt – Camp Fortune Ski Club – CAST SX Team
Kevin Drury – Georgian Peaks – CAST SX Team
Brian Rowland – Calabogie Peaks – CAST Para Team
Mac Marcoux – Searchmont Ski Runners – CAST Para Team
Sarah Gilles – Mansfield Ski Club – CAST Para Team

Morgan Megarry – Craigleith Ski Club – retired 2019

Phil Brown – Craigleith Ski Club – retired 2019

Larisa Yurkiw – Georgian Peaks – retired 2016

Kelly VanderBeek – Chicopee Ski Club – 2000-2013

Tyler Nella – Georgian Peaks

Patrick Wright – Toronto Ski Club

David Donaldson – Georgian Peaks

 

Julia Roth – Devil's Glen Country Club

Meg Ryley – Craigleith Ski Club

Kate Ryley – Craigleith Ski Club

Patrick Biggs – Camp Fortune Ski Club

Nik Zoricic – Craigleith Ski Club

Lauren Lattimer – Searchmont

Maggie Pattillo – Devil's Glen

Scott Barrett – Osler Bluff Ski Club

Madison Irwin – Craigleith Ski Club

Kellie Casey – Toronto Ski Club
Todd Brooker – Toronto Ski Club
Steve Podborski – Craigleith Ski Club
Karen Stemmle – Georgian Peaks
Brian Stemmle – Georgian Peaks
Liisa Savijarvi  – Georgian Peaks
Betsy Clifford – Camp Fortune Ski Club
Laurie Graham – Osler Bluff Ski Club
Jeff MacInnis – Toronto Ski Club
Graham Hess – Craigleith Ski Club (1964- ?)
Dan Hadley – Craigleith Ski Club (1965-?)
Judy Crawford – Georgian Peaks (1972 Olympics)
Katharine Kreiner-Phillips – Timmins Ski Club
Anne Heggtveit – Camp Fortune Ski Club
Additional ski racing BIOS are listed below. Please contact AOA communications@alpineontario.local to continue to add to this list of Ontario's best!
Para skier Chris Williamson is one of the world's most decorated para-alpine athletes. Chris Williamson reached the podium again at the 2014 Paralympic Games in Sochi earning a bronze medal in slalom for visually impaired with his guide Nick Brush. He is now a four-time Paralympic medalist – including a gold in Salt Lake City in 2002.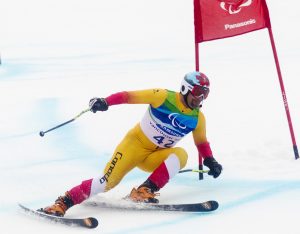 In addition, his resume lists an incredible 105 IPC World Cup podiums (including 56 victories) 13 world championship medals (two gold), as well as eight IPC Crystal Globes and multiple national championship titles.
He fought his way to the Sochi Games from injuries sustained in 2011-12 and in 2013. Williamson headed to the Games on the heels of a golden performance at the 2013 IPC World Cup finals which were held in Sochi.  The national team veteran is known for his determination and love of competition which are key factors for his storied racing career.
Todd Brooker  is a former Crazy Canuck and ski commentator with NBC Sports.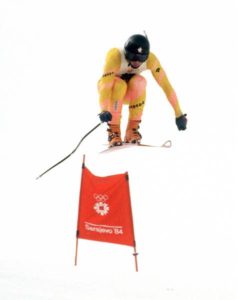 Born in Waterloo, Ontario, Brooker learned to ski and race at Blue Mountain and made the Canadian national team in 1977; he competed on the World Cup circuit from December 1981 to January 1987. A younger member of the Crazy Canucks  (Canada's downhill team) of the early 1980s Brooker won two World Cup downhill races at (Kitzbühel & Aspen) in 1983 finishing ninth in the season's overall downhill standings. Two years later he won the downhill race in Furano, Japan finishing seventh in the 1985 downhill standings.
Brookers rise to world class prominence placed him 13th at the 1982 World Championships, ninth in the downhill in both the 1984 Winter Olympics and the 1985 World Championships.
The Hahnenkamm in Kitzbühel, Austria, is arguably the most physically and mentally demanding race on the downhill skiing world cup circuit. The Streif course is one of the most respected and feared downhill courses. A victory is a badge of honor, if not a bragging right to even the most seasoned and decorated racer. From 1980 to 1983, Canadians Ken Read, Steve Podborski, and Brooker broke the European dominance of victory at Kitzbühel.
After returning from a knee injury, Brooker's ski racing career ended in Kitzbühel at the top of the Zielschuss in January 1987 with the most gut wrenching spectacular ragdoll head-over-heels cartwheeling fall ever captured on film. When asked about the video, Brooker has remarked that everyone remembers his Kitzbühel fall, except for him. The crash in the Friday training run ended his season and racing career.
Brooker finished his World Cup career with three victories, seven podiums, and 15 top ten finishes, all in downhill.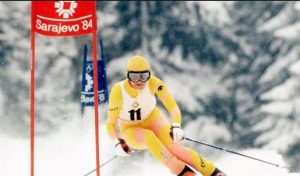 Liisa Savijarvi is a former National Team member now coaching in Southern Ontario. She was born in Bracebridge, Ontario. Her career in Alpine skiing started with the Southern Ontario Division Ski team in December 1978. She made many appearances at the Canadian Alpine Championships and the FIS World Cup. She was part of Canada's team at the 1984 Winter Olympics in Sarajevo, attaining 9th place in the Giant Slalom and 18th place in the Downhill.
She achieved a number of podium places on the FIS World Cup schedule, including winning a Super-G in Furano, Japan.
Her career officially ended in 1988, following serious injuries sustained during a FIS World Cup training run on 17 March 1987 in Vail, Colorado.
She was inducted into the Canadian Ski Hall of Fame in 1997.
Betsy Clifford is a former National Team member.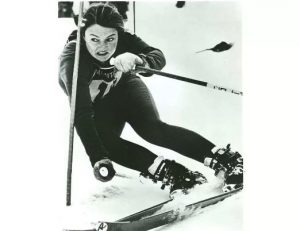 At the 1968 Winter Olympics, she was the youngest Canadian skier ever to compete. She finished 7th at the 1970 Alpine Skiing World Cup and 10th at the 1971 Alpine Skiing World Cup. In 1971, she won the Alpine skiing World Cup in slalom skiing. Clifford is from Ottawa.
In 1970, she was inducted into Canada's Sports Hall of Fame and in 1971 she was inducted into the Canadian Olympic Hall of Fame.
Laurie Graham is a Canadian downhill skier from Inglewood, Ontario who represented Canada at the 1980, 1984 and 1988 Winter Olympics.
She won six World Cup victories and three National Downhill titles in her eleven years on the National Ski Team. She was the first North American woman to win a World Cup Super Giant Slalom skiing. She was the first North American to win on home soil at Mont-Tremblant, Quebec. In addition, Graham posted 34 top 10 FIS World Cup Downhill results.
In 1998, she was made a Member of the Order of Canada. She was inducted to the Canadian Ski Hall of Fame in 1991, the Canada's Sports Hall of Fame in 1993 and the Ontario Sports Hall of Fame in 2015. She graduated from the University of Toronto.
Patrick Biggs is former member of the National Team and current Program Director at Camp Fortune Ski Club.
Biggs, twice finished in the top 10 in the slalom at World Cup events, both in 2005 and won multiple medals at the Canadian championships in slalom. He participated in the 2006 Olympics, finishing 10th in the first run, but failing to finish the second. He has also competed in two Alpine Skiing World Championships, ending up 9th in the slalom on both occasions, in 2005 and 2007.
Pat was born in Victoria, Australia and later moved to Canada. He attended Dartmouth College.
Steve Podborski is a former Crazy Canuck from Toronto and the Craigleith Ski Club.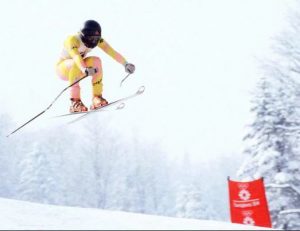 He joined the Canadian Alpine Ski Team in 1973 and made his World Cup debut in 1974 at age 17, scoring two top ten finishes in his first World Cup season. He was due to make his Olympic debut at the 1976 Winter Olympics in Innsbruck, however he ruptured two knee ligaments in an accident just before the Games. He won the bronze medal in the downhill at the 1980 Winter Olympics in Lake Placid.
In 1982, Podborski became the first North American to win the World Cup season title in the downhill. In total, he won eight World Cup downhill races, including the notorious Hahnenkamm in Kitzbühel, Austria, which he won twice (1981–82). In 34 more races, he finished in the top 10. He retired following the 1984 season at age 26. Podborski was on the podium in World Cup races 20 times in approximately 100 races with 8 victories.
Erik Guay is the only other Canadian to win a World Cup season title (Super-G, 2011) though with 5 World Cup career wins, 1 in Downhill. Ken Read came close to winning the World Cup Downhill title (downhill, 1980) finishing second.
Steve Podborski was inducted into the Ontario Sports Hall of Fame in 2002.
Which Stemmle? Let's learn about both of them.
Karen Stemmle is a former National Team member who competed in the 1984 Winter Olympics. Inspired by Olympic High Jumper, Greg Joy, and his Silver Medal win at the 1976 Summer Olympics in Montreal, she fostered the 'Olympic dream'. In 1982, Karen, new to the Downhill racing scene, finished 4th at the Canadian Championships in Lake Louise where she was also awarded Junior Canadian Champion.
The Canadian Alpine Ski Team invited Karen to join them on the World Cup Ski Circuit and within a year, she finished 6th at a World Cup race in Mt. Tremblant. Quebec—the Olympic dream was within her grasp. She was greatly inspired by phenomenal ski legends Nancy Greene and Laurie Graham.
In 1984, a 4th place World Cup Downhill finish in Verbier, Switzerland qualified Karen for the Canadian Olympic team and she went on to march in the Opening Ceremonies at the 1984 Winter Olympics in Sarajevo. Karen was awarded 1 of 4 Canadian spots to compete and finished 21st in the race.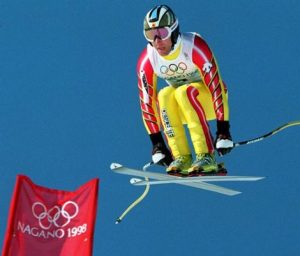 Brian Stemmle also skied for Canada and competed primarily in the downhill and Super-G disciplines. He was a member of the Canadian Alpine Ski Team for 14 years and was inducted into the Canadian Ski Hall of Fame in 2002. He appeared at four Winter Olympic Games from 1988 through 1998.
During his 15 years of international competition, Stemmle competed in 93 FIS Alpine Ski World Cup races, garnering 3 podium finishes and placing in the top 10 on 15 separate occasions. His best international result occurred in 1996 when he captured a silver medal during a World Cup event in Garmisch, Germany. Known primarily as a downhill specialist, Stemmle also experienced great success in the super-G discipline, capturing a bronze medal during a 1985 World Cup event in Furano, Japan.
A six-time medalist at the Canadian Championships, Stemmle currently works as a television colour commentator for Rogers Sportsnet. He worked for CBC during the Olympics in 2006 and was the lead commentator for Alpine Skiing at the 2010 Winter Olympics in Vancouver/Whistler.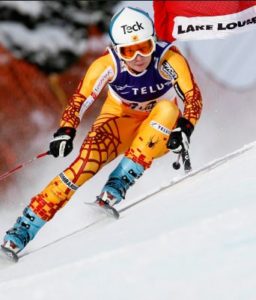 Kelly VanderBeek is originally from Kitchener, Ontario and skied for Canada . She currently resides in Canmore, Alberta with husband (five-time Olympic kayaker) David Ford.
Kelly qualified for the Canadian National Ski team in 2000 and stayed with them for 13 years. Coming from Kapuskasing, Ontario where she learned to ski on a rope tow at the Rémi Ski Hill (34m), meant that when she started racing at Chicopee Ski Club (Kitchener, Ontario) it seemed like a mountain (even through its vertical was only 61m).
In 2002, VanderBeek won both the Super-G and downhill events on the Nor-Am Cup held in Aspen, Colorado. In 2004, she continued to make her mark on the Nor-Am Cup by winning two Super-G races at Big Mountain, Montana. She placed a remarkable 3rd in the Super-G at both the 2002 and 2003 FIS Junior World Ski Championships in Tarvisio, Italy and Puy St.Vincent, France, respectively. Kelly competed in numerous Europa Cup events as well.
On December 3, 2002, VanderBeek made her FIS World Cup debut at Lake Louise, Alberta. VanderBeek then won the Canadian Junior Athlete of the Year that same year. On December 3, 2006, VanderBeek became the first Canadian woman to reach the podium on home soil, posting a 3rd-place finish at the World Cup downhill in Lake Louise.
Later, she posted two 2nd-place finishes at World Cup events in 2007 and 2008 in Sestriere, Italy and St. Anton, Austria.
On January 12, 2013, VanderBeek announced her retirement from competitive sport during a press conference held at her home club of Chicopee Ski Club.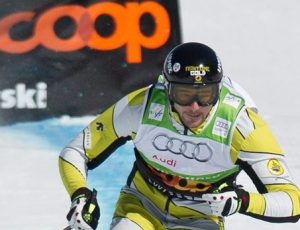 Nikola "Nick" Zoricic was a Canadian ski cross skier who died following a severe crash during the eighth-finals of a World Cup event in Grindelwald, Switzerland.
Zoricic was born in Sarajevo, Socialist Republic of Bosnia and Herzegovina. He grew up in Toronto after emigrating to Canada with his family at the age of five. As is common among ski-cross athletes, Zoricic was an alpine ski racer before taking up ski-cross. In December 1998, he was No. 1 ranked in the world in slalom for his age group. Zoricic started his first FIS race in Park City and scored his first top 10 finish at the Nor-Am Cup in Colorado. During the 2003–04 and 2004–05 seasons, he competed in four World Cup slaloms. For several years, he tried in vain to compete with the world's best slalom skiers but injuries did not let him to move up the ranking. In 2008 he decided to switch to freestyle skiing instead.
Zoricic made his ski-cross debut at the Freestyle World Cup on 19 January 2009 in Lake Placid, finishing in 61st. He earned his first World Cup points on 24 February of that year when he finished 15th at Branäs, Sweden. During the 2009–10 season, he failed to qualify for the 2010 Winter Olympics in Vancouver.
Zoricic's greatest success came in the 2010–11 season. That year, he was never ranked lower than eighth and made his first World Cup podium on 7 January 2011 by finishing second at St. Johann in Tyrol. A year later, on 15 January 2012, he finished third in the World Cup race at Les Contamines-Montjoie.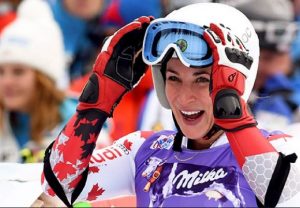 Larisa Yurkiw is a retired National Team member who specialized in the speed events of downhill and super-G.
Born in Owen Sound, Ontario, Yurkiw made her World Cup debut at Altenmarkt-Zauchensee, Austria, in a downhill event in January 2007. In 2015, she achieved a personal best at Cortina d'Ampezzo, Italy when she placed 2nd in the DH discipline. She went on to achieve three more World Cup podiums.
On December 16, 2009, a crash during a training run at Val d'Isere resulted in an ACL tear, MCL tear, patellar tendon tear and tears in both the lateral and medial meniscus in her left knee. She did not compete on home soil at the 2010 Winter Olympics in Vancouver and Whistler, British Columbia.
Prior to debuting on the world stage, she had much success as a junior ski racer. Yurkiw picked up a silver medal at the 2008 FIS Junior World Ski Championships in Formigal, Spain in the combined discipline. From 2006 to 2008, she posted three more top 10 results at this event.
Yurkiw announced her retirement on May 11, 2016, citing her desire to preserve her health. This had come after the best season of her career.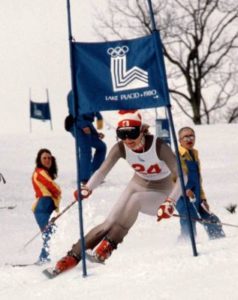 Katharine Kreiner-Phillips is a former World Cup alpine ski racer and Olympic gold medalist from Canada. She won the giant slalom at the 1976 Winter Olympics in Innsbruck, Austria. First out of the gate on Friday the 13th, Kreiner prevented double gold medalist Rosi Mittermaier from sweeping the women's alpine events, as Mittermaier won the silver medal. It was Canada's only gold medal in Innsbruck.
Born in Timmins, Ontario, Kreiner was an alpine racing prodigy in Canada, the youngest of six children.
Kreiner made the national 'B' team at age 13 for a year, and was promoted to the 'A' team in the summer of 1971. She had her first World Cup top ten result in mid-January 1972, a sixth place in a downhill at Grindelwald, Switzerland. Three weeks later, Kreiner placed 14th in the slalom at the 1972 Winter Olympics in Sapporo, Japan. She made her first World Cup podium in 1973 at Alyeska in Alaska in giant slalom, and gained her first and only World Cup victory at age 16 in 1974 at Pfronten, West Germany. Kreiner raced 10 seasons on the World Cup circuit and finished with 1 victory, 7 podiums, and 46 top tens. After her Olympic victory, she was named the Canadian Female Athlete of the Year in 1976.
From 1948 to 1980, the Winter Olympics also served as the World Championships for alpine skiing, making the Olympic champion the concurrent world champion. Kreiner was immediately inducted into the Canada's Sports Hall of Fame at age 18. She was also inducted into the Ontario Sports Hall of Fame in 2002.
Kreiner's Olympic win in 1976 surprised even her; she had shipped home most of her items from Innsbruck and had to borrow a uniform for the medal ceremony.
Kreiner married Dave Phillips, a former freestyle skier with the Canadian national team. As of 2010, she remains the only Olympic gold medalist from Timmins.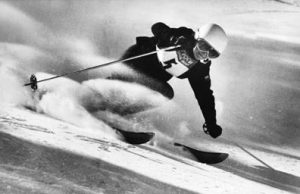 Anne Heggtveit is from Ottawa and was an Olympic gold medalist and double world champion in 1960.
At the age of 15 in 1954, Heggtveit first gained international attention when she became the youngest winner ever of the Holmenkollen giant slalom event in Norway. She also won the slalom and giant slalom at the United States national junior championships, and finished ninth in the downhill and seventh in the slalom at the World Championships in March at Åre, Sweden. After leading the top half of the giant slalom, she fell twice near the finish was well back in 31st,[13] which dropped her final placing in the combined to 14th.
Although Heggtveit suffered from several injuries between 1955 and 1957, Heggtveit still earned a spot on Canada's Olympic team at age 17 in 1956 at Cortina d'Ampezzo, Italy.
At a time when Europeans dominated alpine skiing, Heggtveit was inspired by the breakthrough performance of teammate Lucile Wheeler of Quebec, who won Olympic bronze in the downhill in 1956, and three medals at the World Championships in 1958 at Bad Gastein, Austria. Wheeler won gold in the downhill and giant slalom events, and took silver in the combined. Heggtveit finished in the top ten in three events, with an eighth in the slalom, seventh in the downhill, and sixth in the combined.
At the 1960 Winter Olympic Games in Squaw Valley, California, Heggtveit won Canada's first-ever Olympic skiing gold medal. Her victory in the Olympic slalom also made her the first non-European to win the world championship in slalom and combined. Heggtveit was the first North American to win the Arlberg-Kandahar Trophy, the most prestigious and classic event in alpine skiing.