UPDATES SO FAR: 
Alpine Ontario 
AOA COVID-19 Vaccination Policy – Nov 2021
AOA Club Return to Sport Plan Template – DRAFT
AOA Return to Sport Guiding Principles
AOA COVID Mitigation Planning for Projects out of Division – DRAFT
Appendix A – Sport Participation COVID-19 Agreement
Appendix C – AOA Daily COVID Attestation Form – Jan 2022
Appendix D – AOA Project Logistics Template
Appendix E – AOA Contract Tracing – Daily Log
Club Risk Assessment and Mitigation Checklist
Return to Competition Guidelines DRAFT – Nov 2020
Alpine Canada – Updates
ACA COVID-19 Return to Skiing Internal Risk Mitigation Resource Document
ACA Return to Training Sport Specific Operations
Canadian Snowsports Association
CSA Guidelines for Remote Training During the COVID-19 Pandemic 
Travel Outside of Canada – COVID and SAIP Insurance Update
Useful Federal Resources and Updates
Government of Ontario COVID Response Framework – Nov 3, 2020
Health Canada
World Health Organization
World Health Organization – Planning for Mass Gatherings 
World Anti-Doping Agency (WADA) – COVID-19 Athlete Q&A
Government of Canada – Coronavirus Disease Outbreak Update
Government of Canada – COVID-19 App and Self-Assessment Tool
Government of Canada – Cleaning and Disinfecting Public Spaces during COVID-19
COVID-19 Update from the CSIO
Government of Ontario Aug 14 Update
Tips for Athletes, Coaches, Parents and the Sport Community
Canadian Sport for Life (CS4L): Physical Literacy at Home 
Risk Assessment for Sport
Return to HP Sport Framework
__________________________________________
June 8th, 2020
Covid-19 Update
We are all well aware that the impacts of the COVID-19 Pandemic have been felt near and far by every amateur athlete in Canada and while we enter our 3rd month of COVID closures we are starting to get a clearer picture of what the 2021 season may or may not look like. We are focused on the things we can control at this time, working with our stakeholders and creating return to activity and sport protocols for all of our high performance teams and clubs. As information continues to change daily at the municipal, provincial and federal level, our plans will need to be nimble, flexible, aligned and in the best interest of our athletes and coaches.
The most critical priority for AOA is getting our community back to training and racing in the most prudent way possible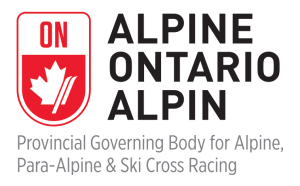 while keeping the focus on the health and safety of our athletes. The stakeholder group that comprises advises AOA is full of experts from various fields and the sectors that they represent will ensure our successful return to fitness training centres and ski clubs across the province. AOA is in continuous discussions and information sessions with government agencies at all levels including the Ministry of Heritage, Sport, Tourism and Culture Industries, the Canadian Sport Institute of Ontario, the Canadian Olympic Committee, Own the Podium, Sport Canada, Alpine Canada Alpin, Canadian Snowsports Association and the Ontario Ski Resort Association just to name a few. All of these stakeholders input, regulations and procedures will be utilized by AOA to build a best practice document for the specific needs of our sport in Ontario – a solution that works best for our community all while ensuring the safest and healthiest environment for all.
For more on what AOA's mandate and oversight entail, please click here.