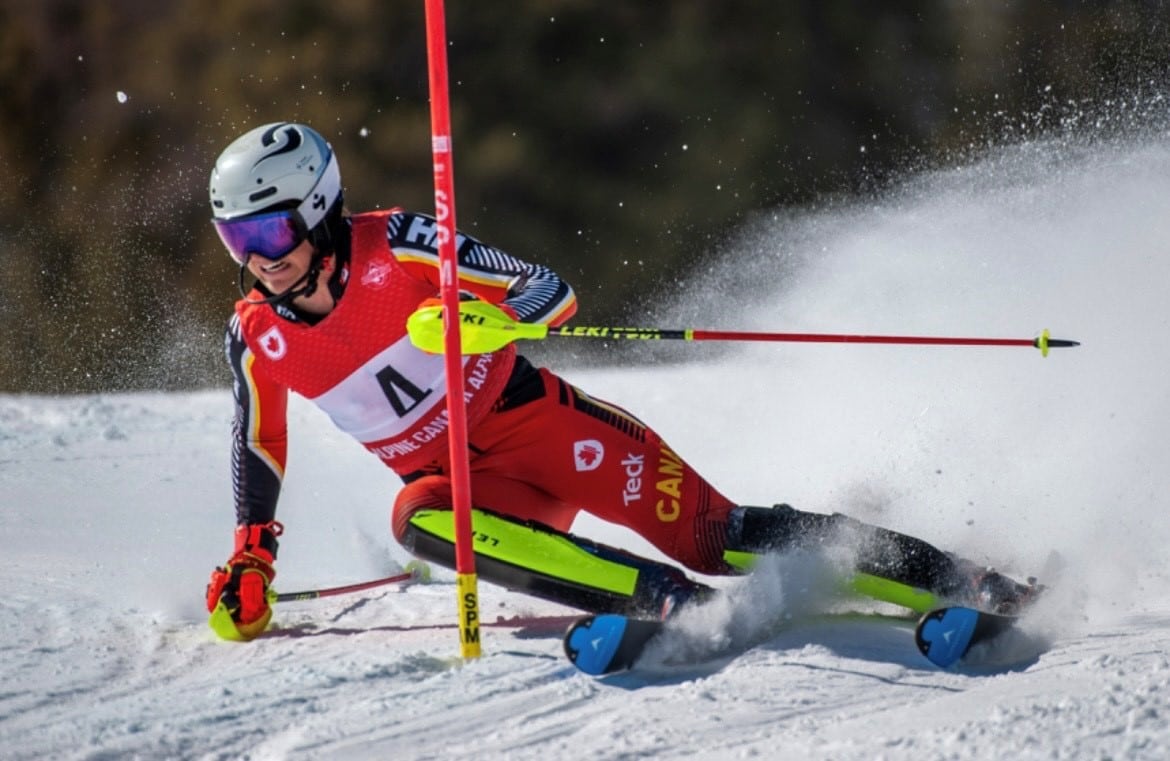 It hasn't been a straightforward path for Ontario Ski Team (OST)'s Justin Alkier, but his winding journey led him to huge success this past season at Nor-Am Cup events and Senior Canadian Nationals, culminating in him earning a spot on the World Cup tour next year for slalom. He was also recently awarded the Sporting Life Athlete of the Year (Male) at a presentation of the Ontario Ski Racing Awards, presented by Mackenzie Investments.
Growing up, Justin skied and trained as a member of Georgian Peaks Ski Club. In fact, his current coach Cam Mackenzie, was his U14 coach at the Peaks. "I've known him for over 10 years now," remarked Justin.
He followed his time at the Peaks with 3 years (2010-2012) at the National Ski Academy in Collingwood. "Fun fact," he said. "Both my Mom and my sister also went to the NSA, so it's really been in the family."
Moving on, he joined other NSA athletes at TCRA in Colorado, and also at Middlebury College in Vermont, where other Ontario athletes were also attending, including Ali Nullmeyer (current Canadian Alpine Ski Team member). Highlights included All American in his sophomore year and All Academic. He raced as part of the NCAA circuit and said, "I was really lucky at Middlebury. Some of my teammates were on the USA Ski Team and we kept pushing each other to improve. There was a team aspect to the sport, scored by adding up points, and this led us all to focus on one goal."
Sadly, in his 3rd year the COVID-19 pandemic happened. He decided to ski in Europe and secured a spot in his first World Cup in 2021. He went on to race in 3 World Cup events that year. He then went back to Middlebury College and graduated in January 2022.
Last summer he was disappointed to learn that he didn't make the Canadian Alpine Ski Team (CAST), but he knew he wanted to keep racing. He eventually joined the OST for a training camp in Chile in September and trained and raced with them throughout this season. He also had the chance to be with the CAST in both October and February which was a fantastic learning experience.
His goal this year was to focus on the Nor-Am cup events and to get one of the spots on the World Cup – which he did! Having accomplished his goals for this year, he has his sights set on 2023-24. He said, "I want to score World Cup points in slalom on several occasions and I want to improve my ranking to Top 45/Top 50." Justin will have about 10 opportunities to do just that.
In looking back at his career and wanting to offer some advice to up-and-coming racers he said, "It's a long journey to get the World Cup, and there are many paths to get there. It's not a sprint but a marathon."
He continued, "You need to enjoy everyday as much as you can and stay motivated in the long-run. This means staying motivated not just in the season, but ensuring that you're training hard in the off-season. Also it's easier to stay motivated when you're having fun, so be sure to surround yourself with people that make the sport fun."
Justin concluded, "I'd like to thank the OST coaches and athletes for an enjoyable season. Ontario is a unique place for ski racing and I'm happy to be representing our province internationally."