Written by AOA Executive Director Scott Barrett. 
As we continue travelling the province and meeting Alpine Ontario members, we narrow our focus today to a Volunteer Extraordinaire family in the National Capital Division. The Division suggested we reach out to the Alexander Family so here goes with a look into the life of another busy ski racing family lead by parents Jamie and Jill….
Q1: What club are you with? When did you join?
We are with the Calabogie Ski Racing Club (CSRC). We joined the Club in 2008 when the first of our three kids turned 8.
Q2: How many kids do you have in the program? What ages, teams, etc?
We have three kids in the race program; a 15 year old boy (Jack) and a 14 year old boy (Sam) who are both racing in the U16 program and a 12 year old girl (Carly) who is in her first year of U14.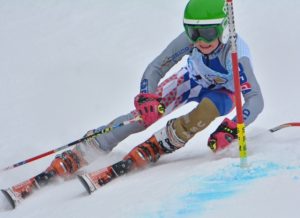 Q3: Do you volunteer or coach as well?
I am the President of our race club and also sit on the National Capital Division Board. I dedicate almost all of my time outside of work to volunteering. In addition to volunteering at all of the races our club hosts, I (and many other parents) regularly take on volunteer roles at other hills in our region. Volunteering is an important part of the culture in the National Capital Division and our athletes recognize and appreciate the effort we put into hosting our races. Parents who do not get involved (and there are very few at our club) are missing a tremendously rewarding part of the experience that leads to great relationships from hill to hill and region to region.
Q4: what do you for a living, where do you live?
I am an electrician and my wife is a lawyer. We live in the Village of Carp which is in the far west end of Ottawa and about an hour away from Calabogie.
Q5: what other sports do your kids do? How do these stack up next to ski racing?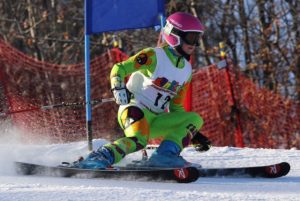 Skiing has been the primary competitive sport in which our kids have participated. Both of our boys enjoy golfing and windsurfing during the summer months where we spend most of our time at the cottage. Our oldest boy has played competitive soccer for a number of years.
Q6: How would you compare AOA/Ski Racing as a sport next to other PSOs (provincial sport organizations?) If applicable?
Because our kids got involved in ski racing at a young age, they haven't participated in many other organized competitive sports so we are not in a position to make a comparison. Having said that, we can't imagine an organized sport that would provide a better quality of life and environment for every member of the family. The collegiality among the ski parents is second to none and we get to enjoy skiing while the kids train.
Q7: Where is your favourite place to ski?
We enjoy skiing at all of our local hills. One of the most impressive hills we have skied at recreationally as a family is Le Massif in Quebec. The views are spectacular!
Q8: What sort of coaching do you like? Dislike?
We have only experienced the coaching at Calabogie. Our head coach, Bruce Monkman, is one of the most experienced and well respected coaches in our region. What we appreciate most about Bruce is the interest he takes in every single athlete in our club. Our club has produced an impressive number of very skilled racers and those racers have never been elevated above or favoured over the others. Bruce has never wavered in his focus which has always been athlete development.
Q9: How has AOA or the sport changed during your time involved?
As parents of kids who ski outside of the Southern Ontario Division (SOD), early on, it was our impression that the AOA and its decisions were largely influenced by the race clubs in the SOD. In recent years, AOA has been sending representatives to races in our region and should be commended for this effort. We very much appreciate being invited to provide input on issues that are important to the development of our athletes which should be a common goal of all clubs regardless of location.
Q10: What's your wish list for this sport?
The current programming appears designed (unintentionally) to phase kids out of ski racing following completion of the U16 program unless they are on track to become members of an elite or provincial team. Many of these kids have not reached their ultimate height or weight and it seems like an abrupt end to a sport that has provided so much personal and athletic development growth and enjoyment.