Alpine Ontario along with Alpine Canada collaborated to run the Canadian Women in Ski Racing week which attracted huge participation and turn out at all activities.
The week included:
Feb 26: Women in Ski Racing Panel @ Georgian Peaks, presented by Mackenzie Investments
Over a hundred people came to hear the women in ski racing panel discussion led by Olympian Kelly Vanderbeek.  Hundreds of kids flocked for autographs from Canada's top racers during the autograph signing session that followed.
Feb 26-Mar 2: Women in Coaching, presented by Mackenzie Investments
18 women ski coaches from across the province gathered in Collingwood in association with the Nor-Am races to be mentored by some of the Canada's leading coaches in the field, and receive behind-the-scenes learning opportunities from the side of the slopes, at team captains meeting, team wax rooms, and in collaborative talks and workshops, including at the Collingwood location of Sporting Life. Coaches left feeling inspired and are bringing their education back to their home clubs.
Feb 27-Mar 2: Nor-Am Cup (GS and SL)
Four Nor-Am races were hosted by Georgian Peaks (GS) and Osler Bluff Ski Club (SL). It was a fantastic opportunity for the ski racing community to see some of Canada's brightest up and coming stars. Hosting these events in our own backyard was an incredible opportunity to expose our ski community to world class racing and give the opportunity for our Provincial Teams to race at their local clubs. Our Canadian Women rose to the challenge and struck top of the podium 3 of the 4 races!  Local racer from Georgian Peaks, and National Team member Ali Nullmeyer took home the gold in the first of two slaloms at Osler.  The event showcased incredibly dynamic skiing from North America's best with inspiring commentary from Brian Stemmle, Jeff Vibert and Eugene Trusler. It was a sight to see and hear!
Special thanks to Race Organizing Committee Chairs, John and Sue Mealey for their dedication to organizing this event and the fundraising activities that took place alongside the races.
Mar 2: Fast and Female Power Hour & AOA Skills Camp
Fast and Female and the U12/U14 athlete skills camp brought out over 70 kids to watch some of the best in the world and benefit from impactful programming on and off the slopes.
As a legacy to this week, we have set aside funds to be used to help Bridge the Gap in Funding for athletes who find themselves between Alpine Canada and Provincial Team to help ease the financial burden on their path to the World Cup.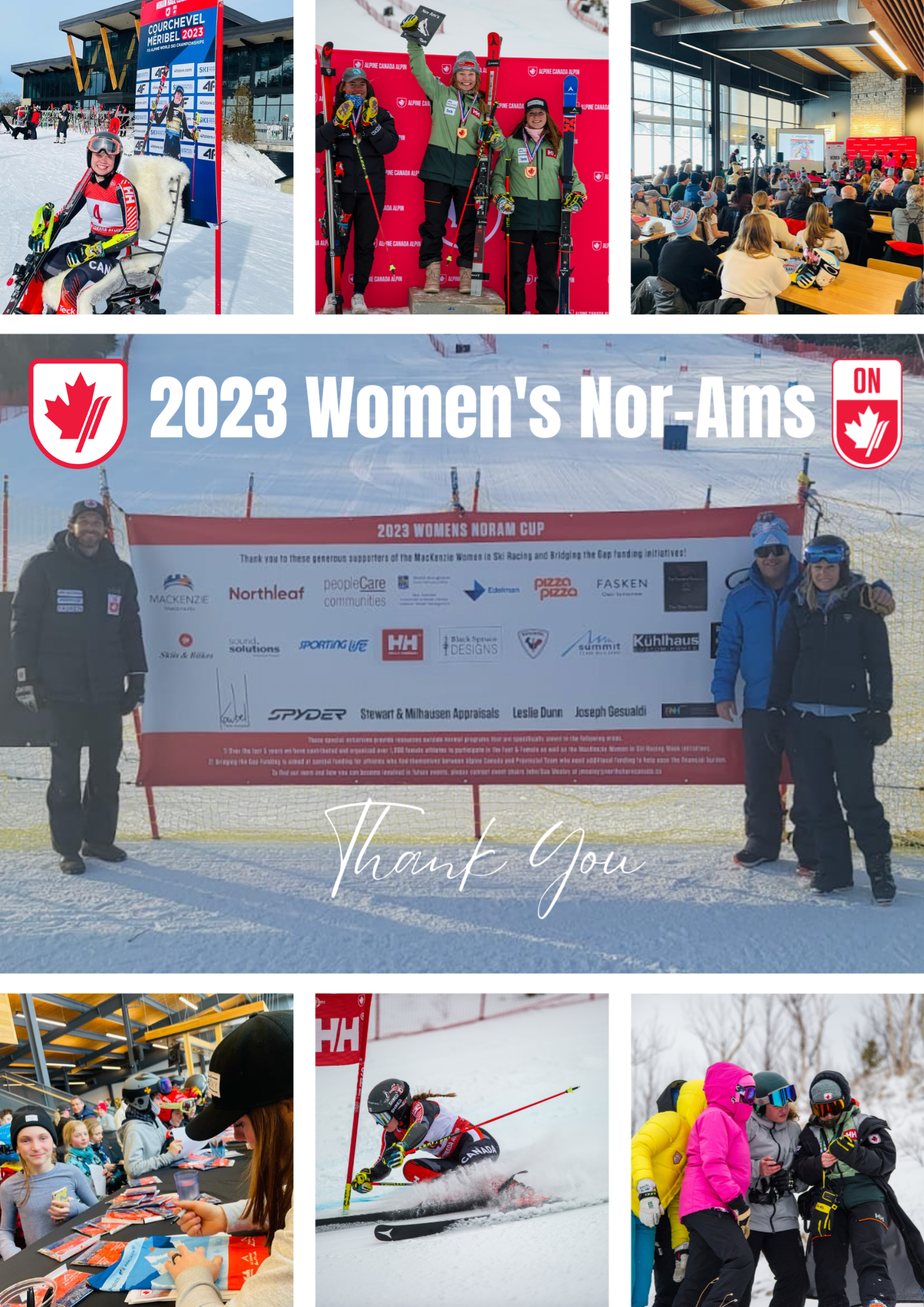 Many thanks to all the sponsors who made this week possible!