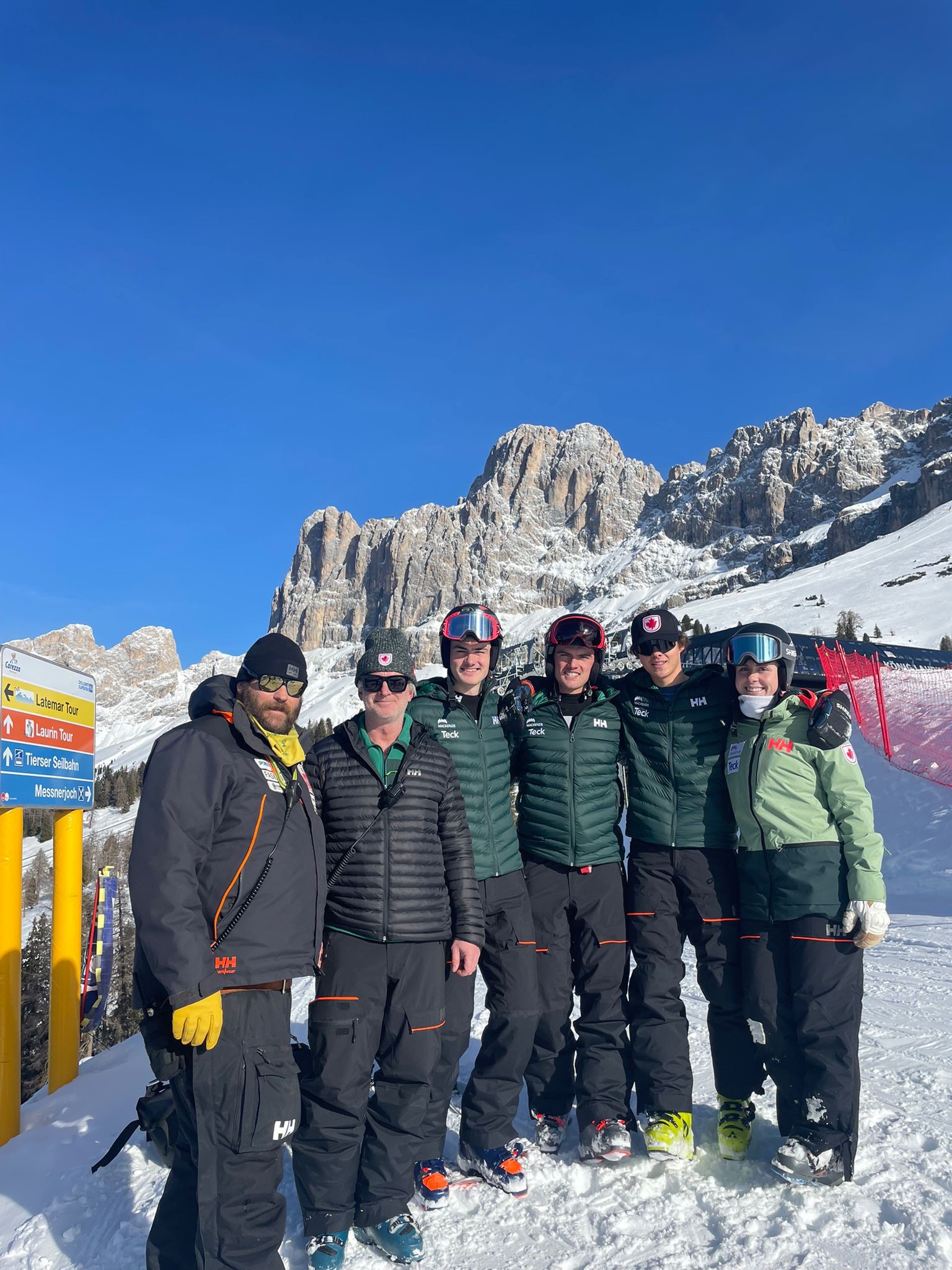 Alpine Ontario Alpin (AOA) is proud to announce the four athletes and two coaches who will represent Ontario (and Canada) at the 2023 FIS Alpine Junior World Ski Championships in St. Anton, Austria from Jan. 16-25, 2023. The world's best young athletes from around 50 countries will be taking the next step in their sporting careers
Ontario athletes represent 4 of the 11 members of the 2023 Canadian World Junior Championship Team. Additionally, Kip Harrington, AOA's Vice President, High Performance, has been named the Men's Coach lead for the Canadian team. Cam Stephen, Ontario Ski Team's Women's Head Coach is also attending as one of the womens' coaches.
This year's team includes:
Ashley Campbell, Georgian Peaks, YOB 2002 (current member of Ontario Ski Team)
Mackenzie Wood, Georgian Peaks, YOB 2002
Oscar Park, National Ski Academy, YOB 2004
Kyle Blandford, Toronto Ski Club/Georgian Peaks, YOB 2003 (current member of Ontario Ski Team)
Already this year, these athletes have demonstrated strong results. Ashley Campbell had four Top 15 finishes at NorAm events in December, with a best finish of 7th. Kyle Blandford had the strongest speed performance of any Canadian Junior in the opening NorAm event. He finished 13th in Super G. Mackenzie (Mac) Wood is coming off two strong Top 20 finishes in NorAm slalom events. Oscar Park is the youngest Canadian Male to meet World Junior Championship criteria and he will be looking to build experience during the event.
Alpine Ontario Alpin's Executive Director, Patrick Biggs said, "We're thrilled to see the depth of Ontario racers and coaching leadership representing Canada at the World Junior Championships. It's a great honour for me to watch these young athletes come through the development pipeline and know that we're looking at the next generation of great Canadian Racers. The World Juniors offer a unique opportunity for athletes to get a taste for the next level of competition, and to push themselves and their skills on the world stage. It's going to be an exciting event!"
The 2023 Junior Worlds will include downhill, team alpine combined and mixed team events, along with super-G, giant slalom and slalom events for both men and women. Live timing will be provided by the International Ski Federation (FIS).
2023 COMPETITION SCHEDULE
January 17 – Downhill Training
January 18 – Downhill Training
January 19 – Men's and Women's Downhill
January 20 – Men's and Women's Super-G
January 20 – Men's and Women's Team Alpine Combined
January 21 – Women's Giant Slalom
January 22 – Men's Giant Slalom
January 23– Mixed Team Parallel
January 24 – Women's Slalom
January 25 – Men's Slalom
More event information can be found here: https://www.y-ournextstep.at/en/
Follow the event:
#JWSC23
Watch races live: https://www.y-ournextstep.at/en/watch-live/
– 30 –
For more information please contact:
Heather Vita
Communications and Member Services Manager
Alpine Ontario Alpin
E-mail: communications@alpineontario.ca
Phone: (807) 631-3793