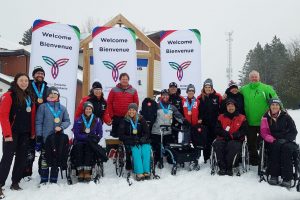 Submitted by SOD Program Director TES Hynes…
The 2020 Ontario Winter Games will go down in history as one to remember with the winter's worst storm! Snow, snow and more snow! While we needed the white stuff to extend our season here in SOD it did mean the athletes didn't get to participate in the Opening Ceremonies in Orillia and Tyler Wilson from Fenninger Racing was not able to lead the parade carrying the Alpine/Para Alpine sign. Despite this, I think everyone will agree the 2020 OWG was a memorable event!
A big thank you to Horseshoe Inn who lodged all the athletes, coaches and officials in the alpine racing events. Another big thank you to Mount St. Louis Moonstone for their exceptional grooming and their crew who installed all the safety netting loaned by the NZ Foundation, Horseshoe Resort and Devil's Glen. The hill and the netting ensured a safe, fair race for all competitors across multiple categories.
As the snow kept falling our gatekeepers, on-hill volunteers and officials braved the elements to pull off a flawless event under challenging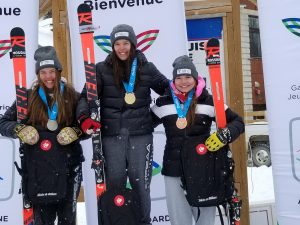 conditions.  Athletes and coaches pitched in to ensure the track was cleared.  Snowboard Ontario organized and ran the Ski Cross event!  Everyone left the Games with great memories and new friends!
The U19 athletes travelled from the four corners of Ontario – Batawa from the east, Milton from the west, north from Thunder Bay and central Ontario. They competed in a SL, SX and GS (see highlights below). The Para Alpine athletes raced in the same SL and GS as the able-bodied skiers which is always inspirational and motivating for both groups.  Sit-skier Katie Comboluzier, joined the crew taking a break from attending medical school in Ireland.  Lastly, sit-skier Andrea Nelson was in the mix and she'll be someone to cheer on in the Tokyo Summer Olympics Games in Kayak. Way to go Andrea!
The event comes to Ontario every two years and it is our biggest Ontario winter sporting event with over 3,000 athletes, coaches and officials from 27 different sports! A big shout out to all the OWG volunteers, consultants from the Ministry of Heritage, Sport, Tourism and Culture Industries and the city of Orillia who worked tirelessly to pull off a successful event.  www.orillia2020.ca Thank You!!
Congratulations to the OWG Medalists! Full results listed here>
SKI CROSS PODIUM WOMEN:
1 – Samantha Brooks, Caledon
2 – Elizabeth Filiatrault,  Elite Alpine Ski Cross
3 – Reena Liu, Batawa
MEN:
1 – Colton Eggert, Elite Alpine Ski Cross
2 – Maximus Keller, Craigleith
3 – Luke Meadus, Jozo Weider
GS – PARA STANDING
1 -Hayden Denouden & guide Jonathan Macdonald
2 – Abbey Vanduzer, OPAST
3 – Rebecca Mideros, OPAST
PARA SIT-SKI:
1 – Katie Comboluzier
2 – Andrea Nelson
3 – Zachary Dow
GS –WOMEN:

1 – Cassidy Brooks, Caldeon
2 – Samatha Brooks, Caldeon
3 – Elizabeth Filiatrault, EASX

GS MEN:
1 – Max Keller, Craigleith
2 – Luke Meadus, Jozo Weider
3 – Liam Vlaad, Alpine
SL –  PARA STANDING
1 – Rebecca Mideros, OPAST
2 – Abbey VanDuzer, OPAST
3 – Hayden Denouden & guide Jonathan Macdonald
PARA SIT-SKI:
1 – Katie Comboluzier
2 – Andrea Nelson
3 – Zachary Dow
SL WOMEN:
1 – Cassidy Brooks, Caldeon
2 – Ella Danby, Alpine
3 – Samatha Brooks, Caldeon
SL MEN:
1 – Max Keller, Craigleith
2 – Isaac Hollinger, Batawa
3 – Liam Vlaad, Alpine