By AOA Communication Manager, Kristin Ellis – August 20th, 2019.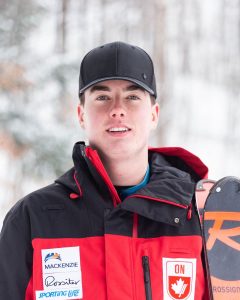 This interview is part of a series of Q&As with each member of the Ontario Ski Team. Britton is in his second year on the OST and 3rd year of FIS. He lives in Ottawa and is a member of the Camp Fortune Ski Club.
Q & A with OST Racer, Britton Quirk
Q: How is your summer so far?
A: It's been really busy. After our camp in Mammoth in May, I took my SATs in early June and travelled to Germany for the OST July camp. I've been training in Ottawa at the Centre for Strength and Athlete Development 4 days a week, adding a track workout once a week with the Ottawa Lions.
Q: You took an unusual route to reach the OST. Tell us a little bit about this?
A: My brother and I started racing in Québec, but after my 1st year FIS our family decided to make the switch to the NCO team. Coach Joey Lavigne and Coach Randa Teschner were awesome! I had the opportunity to hang out and ski with the OST during races in Lake Placid. I really enjoyed Coach Cam and the Team. When I came back from that series, I told Coach Joey that I wanted to switch to Ontario. He was very supportive, and Coaches Kip and Cam gave me a shot.
Q: Was this an easy transition?
A: Not really. In February 2018, I broke my hand in 7 places on a GS gate and my season was over. I missed over 20 FIS races and was not sure whether this just ruined my chance to make the Ontario Team. Thankfully, Coaches Cam and Kip saw my potential.
Q: Looking ahead what are your goals this season?
A: I'd like to compete at the Nor-Am level and to continue to strive for excellence. Ultimately, my goal is to continue to strive to become the best athlete and ski racer I can be.
Q: So you don't pick a series and say "Top 10" or "Podium" as other athletes might do?
A: I prefer a different approach to racing. I like to focus on playing full out because that's the only thing I can control.
Q: Are you happy with how last season went?
A: Towards the end I was. During the last 6 weeks, I hit the podium 4 times. I felt like I was hitting my stride. Mentally, I was stronger and simply having more fun. Earlier in the season, I felt this constant pressure to prove that I belonged. To prove to the coaches they had made the right decision. I didn't want to get cut. It all changed when Coaches Cam and Kip told me that they wanted me back for a 2nd year.
Q: So aside from skiing what else are you dreaming about?
A: Education is really important to me. My plan is to do my undergraduate in Finance and then go to Law School. I'm talking with NCAA coaches right now. My SATs went well.
Q: How well? . sorry, Britton, we know you graduated from high school earning the Governor Generals Award so I'm curious as to how you did on your SATs?
A: Ahh… ok… Yes, I did well… I scored in the 97th percentile in math and 95th percentile overall.
Q: Wow that's really great – congratulations.  So you have no doubt that the NCAA pathway is where you'll end up?
A: Yes, I'm 100% sure I'll be racing NCAA. I have so much more potential to grow as a racer. I want to continue to pursue racing at the highest level that I can, and see what happens. I believe the NCAA circuit is a perfect fit for me – high-level racing with high-level academics.
Q: Do you have any advice for skiers in grade 12 about managing school, getting great grades at the same time as competing at the FIS level?
A: The best advice I can give: play full out with everything you do. Train hard, study hard and ski hard. Be organized and communicate with your teachers and coaches.
Q: So you enjoyed year on the OST. It was a small team of just 3 of you, was this good or bad?
A: I loved our group. Sam and Aaron as teammates gave me intensity when I needed it, but they know how to chill as well.
Q: What about Cam McKenzie as a coach – what did you like about him?
A: He explains the tasks really well and helps us visualize it. He is also good at supporting us emotionally – at times we just need to be told not to worry. He has been and continues to be instrumental in my growth.
Q: And Kip?
A: People assume Kip is a super intense coach, but he's not. For sure he and Cam have expectations, but they are very supportive. Personally, Kip knows how to bring out the best in me.
Q: What is your biggest challenge?
A: Staying focused on the right things. I am learning to only focus on the things that I can control. I cannot always control the things around me, but I can control the things within me.
Q: What about the sport itself, what is the challenge here?
A: We train so hard and for so long to compete in a race that will last about 2 minutes. When things go well, all is good. When the race lasts 15 seconds… you start to question whether it's worth it. You don't get a second or third chance during the game like other sports.
Q: Is it worth it?
A: To me it is. I believe that ski racing has developed me into the person I am today. It has taught me to train hard, play full out, lay it on the line, and to go after my dreams.
Q: What about your own personal challenges?
A: One of my personal challenges is to remind myself to have fun while going after it.
Last words? "If it's not fun, it's not worth doing. Have fun."