Written by AOA Executive Director Scott Barrett. 
Hello again from the Road to the OCUP Finals presented by Pizza Pizza. As I write this we're somewhere in-between the Soo & Camp Fortune after a bit of a slow start due to our drive shaft dropping out of the RV this morning at 630am while trying to leave Searchmont…
I failed to mention that back on day 2 our somewhat unreliable rig failed to start after a two hour dinner at the water
tower Inn with temperatures dipping well below negative 20. After a very experienced CAA mechanic couldn't figure out the problem we decided that hauling it back to our slope side position would be the best idea which the gentleman agreed to, reluctantly. Of course, nobody really knew what had happened except for our neighbours at the bottom of the slalom as well as some of the inner circles of the Race organizing committee. Realizing that we could perhaps be calling Searchmont home for the foreseeable future we asked a few casual questions to our trusty
neighbours from the NCD and the next thing you knew we had Jamie Alexander from Calabogie Peaks under the hood. Jamie had the thing fixed in about 2 hours and as Devyn, Marc and I suspected it was a blown fuse… So all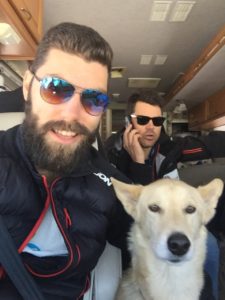 was well except little did we know that our trusty Friday evening tow had ended with the drive train being left unhooked. Well, all I can say is that when she was put into gear this morning we probably woke up the entire resort!
After finally getting on the road we couldn't help but feel a little bluesy leaving Searchmont. Hats off again to the ROC with Mike Schikofsky, aka, 'Shicker' and his fearless team for putting on a great show while always making his guests from other parts of the province feel more than welcome. Heck, we even found time on Monday night to have a visit with local legend Boots who's 84 and skis everyday of the Winter. And what would a trip to the Soo be without running into Gord Acton and his wife who will forever be ingrained in Canadian ski racing folklore.
Even our dog Nuk looked a little down today as he quickly became a hit with other residents like Corine, our amazing race secretary!
Until next time Searchmont.. Thanks for a fun week.
Nuk, Devyn, Marc and Scott