Thank you for making the 2018 Ontario Ski Racing Awards (OSRA) presented by Mackenzie Investments a great success!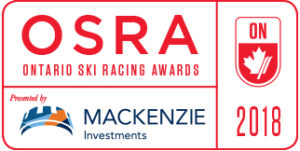 The 2018 Award Winners are: 
Chairpersons Award , Bill Reeves, U16 Nationals Chair
Robert Shore Officials, Bruce Twible, National TD
Community Volunteer, Eugene Trusler, Osler
Parent Volunteer,  Brian Silveria, Camp Fortune
Leadership & Excellence, "Shicker" , Searchmont
Sr. Athlete of the Year, Roni Remme, CAST
Jr. Athlete, Kyle Blandford, Toronto ski Club
Jr. Coach of the Year, Heather Metzger, Georgian Peaks
Sr. Coach of the Year, Katie Twible, Ontario Ski Team
Most Improved Athlete, Reece Ralph, Fenninger Racing
Fair Play Award,  Rachel Soleto, Jozo Weider
Club of the Year, Alpine Ski Club
The Awards committee is led by AOA Director Allan Mihalcin. The program including nomination submissions March 1st to 31st and for two very popular categories (Club of the Year and Jr. Coach of the Year) voting that ran from April 3rd until April 15th. The Awards were presented downtown Toronto at the AOA Awards Banquet, April 18th. Please read the event recap here>
Please note: The committee will not accept any nominations submitted by immediate family members. Awards will be selected based on member votes and committee input. All nominees must be in good standing with AOA and their ski club.