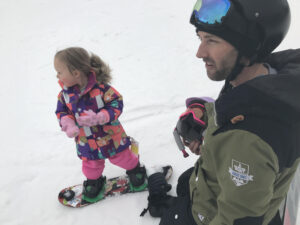 Every Kid, In Every Discipline, Deserves a Future.
Interview by Heather Vita, Communications and Member Services Manager for Alpine Ontario Alpin
I recently sat down with Shawn Letton – the Club Development Manager for Alpine Ontario Alpin, Snowboard Ontario and Freestyle Ontario to discuss his new role in developing programs and opportunities for clubs and athletes across the province.
Heather: "Shawn, you've been in the world of alpine skiing/freestyle/snowboard for several decades – mostly based in the freestyle realm. Additionally, you've taken on dedicated roles such as Alpine Programs Manager at Beaver Valley and more. What made you interested in the role you have now?"
Shawn: "There's a combination of factors that led me to this role. #1 for me is to discover how I can support clubs across the province and entice athletes to try new things and develop their individual skills. We have so many incredible programs available, but it's not always evident to athletes and parents. Specifically – I would say there is a lack of understanding or knowledge – in the freestyle and snowboard programs. We have a great opportunity to grow these programs and give kids the chance to try out new things (like jumps, rails etc.). We know kids love to have fun, and these programs offer just that – a chance to try out something different, alongside or as an alternate to the work they're doing with alpine racing."
Heather: "What do you see as one of the biggest challenges to growing the sports of alpine skiing/snowboarding/ski cross/freestyle?"
Shawn: "Undoubtedly, our biggest challenge is a shortage of coaching staff. It's not because we don't have people that want to coach – it's the difficulty in obtaining all the certifications needed to become a coach – it is intimidating. One of the biggest things I'm working on is to allow teens who are interested in coaching to be able to complete their certifications. For instance, we can accept teens who wish to be Freestyle coaches as early as 14. They can take their coach's course and work as a support coach, and be compensated for their work. They just cannot be officially certified until they're 16."
"Also, in many Alpine programs, the athletes can actually complete their Coach Entry Level certification within the program in which they're involved, as long as their coach is an EL course facilitator. It's a huge deal because we have athletes who are eligible to become coaches for the future of various programs. We know that amazing coaches come from athletes who've been involved in the sport. So we're working hard to ensure they have accessible opportunities to help shape the next generation."
Heather: "Let's talk U8s and U14s….both ages are at different ends of development. What are you hoping to accomplish with these groups from a provincial perspective?
Shawn: "Great question. And one not easily answered!
"I will start with our Alpine U8 programs. And I'll maybe include U10 in this discussion…as the programs can be very similar, as well the outcomes."
"We have a fantastic new multisport offering available to clubs across AOA for our younger athletes. Athletes will receive a 10-week program with 2 multi-sport events and training built for the level the athletes are at. Athletes will receive Alpine Race training in the morning, and then a multitude of additional styles in the afternoon, giving each athlete a well-rounded introduction to ski racing and freestyle."
"At the U14 level, we're focused on keeping athletes around the sport. There's a huge loss of athletes at this level or upon completion of this level for various reasons. We want to keep them around – whether it's looking towards a coaching career, or for them looking into freestyle or ski cross – it's important that we engage these athletes to know there are other opportunities available to them beyond the traditional alpine ski racing route."
Heather: "Besides working with athlete programs, what other services are you providing to clubs?
Shawn: "I'm pretty much a one-stop-shop for any club needs. I'm meeting with most clubs in-person to understand their specific needs. For some, it means that I'm providing help with timing systems, auditing terrain parks or providing advice on how to build/finance various terrain elements. For others, it can mean helping coaches understand the needs of kids at various levels. It may also be helping with different club systems, or it could be answering parent questions at a meeting. My role is flexible and the biggest goal I have is to connect our provincial sports organizations with the clubs so that we enhance and grow the sport experience across the province."
Heather: "Any additional thoughts?"
Shawn:
"I am very motivated to grow the sports associated with Ontario winters – alpine skiing, snowboarding, freestyle – and more. I am passionate about the opportunity for athletes to develop themselves, initially, but also, to develop as athletes known on the world stage."
"We have the chance to take our combined winter sports and integrate them for the best interests of our kids (athletes) and our sports organizations. I am really excited for our season ahead, and also the seasons of the future. I know that Ontario athletes will be on the world stage and I will be the first to cheer them on."